Cayman Salvager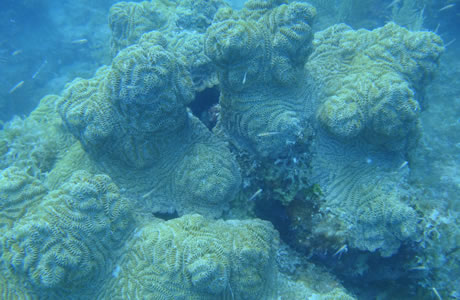 The Cayman Salvager is considered one of the most dramatic shipwrecks in the Florida Keys. The wreck of the 187-foot steel-hulled buoy tender is located one mile southwest of the Nine Foot Stake. She was constructed in Wilmington, DE in 1937 to be a cable layer, but she was converted into a minelayer for the U.S. Army. She served a number of other roles before sinking; in her various lifetimes, she was a Coast Guard Buoy Tender, a Navy VIP ship, a freighter, a drug runner, and a research ship. During the Muriel Boat Lift of 1980, she ferried 5000 Cubans to Key West. When she was seized in the Key West Harbor, she sank at the dock. Five years later the vessel was refloated; while she was being towed to see, the line snapped. The Cayman Salvager sank into the depths, landing on her port side. Originally she lay at the east end of the Ships Channel, but when Hurricane Kate rolled through, she was propped upright and moved to her current position.
The Cayman Salvager wreck is more intact than many of the shipwrecks off the Florida Keys, and as such it is of particular interest to anyone who would like to explore the remains of a ship and not just a coral reef. The engine room is open in the aft, and a number of features are still intact, such as the cable spool on the bow. The pilot house was taken off before the ship sank, but the ship still is twenty feet in height. It is suggested you do not enter the ship without a guide who is experienced in doing so.
As far as sea life goes, there is an incredible amount of variety. You'll see numberless fish in the area and also larger species like barracudas, snooks, and Jewfish in excess of two hundred pounds. These fish are on the endangered list, but are starting to regroup thanks to wrecks like the Salvager. You may also see moray eels on the wreck, and there is believed to be a loggerhead sea turtle and an octopus in residence. Three bicycles have been added to the wreck to provide additional interest. The current is typically low, though the wreck is in 90 feet of water, so typically this dive is not recommended for beginners. Nonetheless, there are reviews from novices who said that they enjoyed the dive and could handle it, so proceed according to your experience and comfort level. You'll find the Cayman Salvager at N 24 27.210/W 081 45.980. Visibility is apparently excellent, so be sure to bring your waterproof camera along with you to capture some of that majestic sea life.